Our Madeline Davis (July 7, 1940-April 28,2021)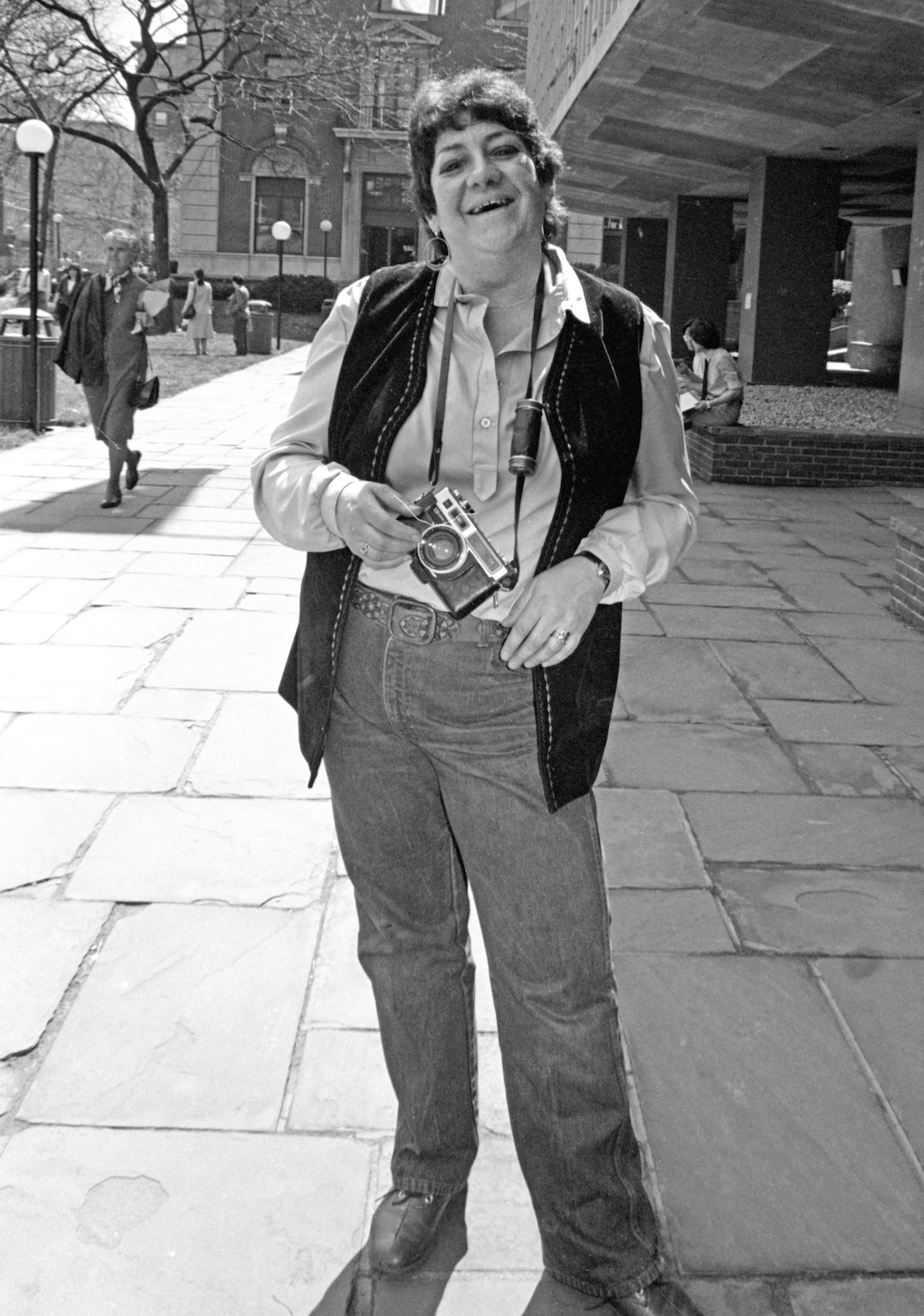 By Joan Nestle
With special gratitude to Wendy Smiley, who through her grieving, said yes.
Editor's Note: On June 18, 2021, The New York Times, ran an obituary of Madeline Davis with the headline "Madeline Davis, Who Spoke to the Nation as a Lesbian, Dies at 80." The formal obituary is worth reading. These two personal remembrances of Davis celebrate her life in lesbian communities.
—
When, in 2001, I had to pack sixty years of New York life into two wooden crates to travel halfway around the world, in addition to my dearest books, the bronze replica of the pensive Eleanor Roosevelt and the hope-giving enlarged photograph by therapist David Blumberg who had said Australia was to loom large in my life, I took a small home-made music cassette that Madeline Davis had given me decades earlier. Her songs, her guitar playing and most of all, her luminous history-filled voice singing of our shared times, the butch-fem '50s, the liberation '60s, that voice, a tender strength, a righteous anger, her words capturing the sweetness of one-night stands, or demanding an end to our exile, that voice filled rooms with the richness of her emotional textures and that brought communities to their feet with hope.
—
Stonewall Nation c. 1971
I don't want to see my brothers kicked into the dust no more
Their dreams all turned to rust, no more
No more…no more.
I don't want to see my sisters having to give in no more
Their loving called a sin, no more
No more…no more.
And the Stonewall Nation's gonna have its liberation
Wait and see; just wait and see
For together we can rise above it
We're gonna be ourselves and love it.
Stonewall Nation is gonna be free.
Come on brothers march along; we're all gonna sing our song
Right now, right now
And sisters take me by the hand; we're gonna build a promised land
Right now, right now
And the Stonewall Nation's gonna have its liberation
Wait and see; just wait and see
You can take your tolerance and stow it
We're gonna be ourselves and show it
Stonewall Nation is gonna be free.
—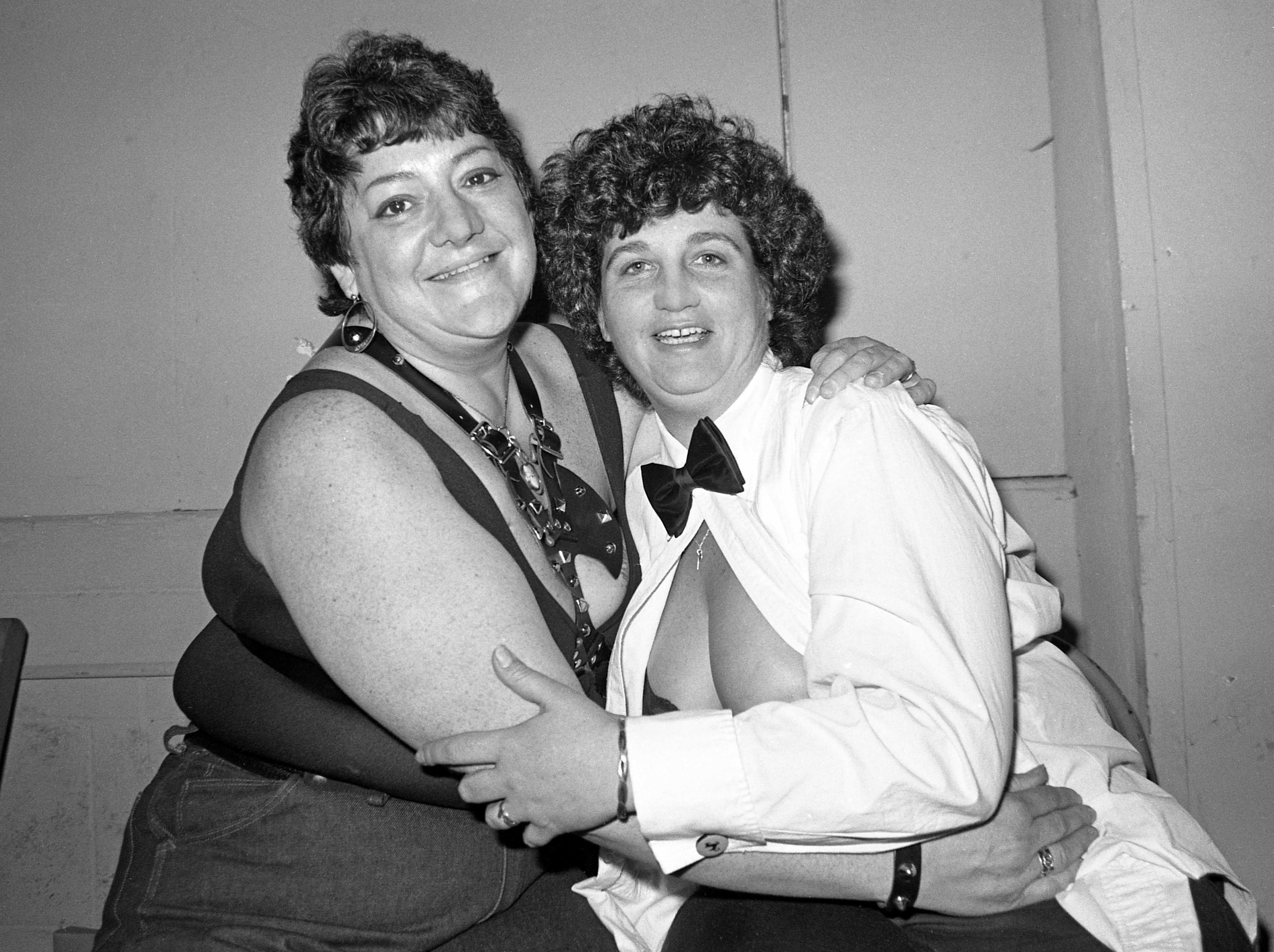 Grassroots lesbian history projects brought us together in the mid '70s—Deb Edel and I travelled to Buffalo, New York, to give the Lesbian Herstory Archives (LHA) slide show; there our comradeship started. Buffalo, a struggling small city with its huge snow falls and its complex worker, lesbian histories, the large houses of our new friends filled with lovers, pets, community meetings, educated us New York City gals in the richness of regional working-class gay history. One afternoon Madeline's old friend, Bobbi Prebis, gave us a tour of the soon to be closed Bethlehem Steel works where she drove a fork lift tractor wearing her hard hat with a Lambda sticker on its front, no mean feat in the early '70s; she later donated the hat along with her hobnail boots to the Lesbian Herstory Archives as a memorial to the lesbians who helped build America's industrial history. Buffalo was to remain Madeline's lifelong home, and she found wonders there. I remember one sleeting night, Madeline had taken us to a small outdoor eating kiosk, to share with us what she said were the best chicken wings in Buffalo. These deep connections of community, of family, of art, of love and desire, of political struggle made Buffalo sing. And her wife, Wendy Smart.
Over the years our friendship with Bobbi Prebis, Liz Kennedy and Madeline deepened. We sat in audiences as Liz and Madeline changed lesbian history forever, page by page unfolding Boots of Leather, Slippers of Gold, giving back to the Buffalo community of 1950s women the truths of their lives. We met the Buffalo women who had worn the blue star through the hard days. Madeline, Bobbi, Liz were for us Buffalo, living in the shadows of the steel mills, regional interpreters. We stayed in Madeline's house, met Mouse, her then lover, later her beloved dog Pransky, traveling the circuit of bookstores, campuses, telling stories of lesbian community in the old days. I remember another night on the grounds of a prestigious women's college in mid-summer—perhaps one of the women's studies conferences we always met at—Madeline and I decided that lake looked too inviting to pass up and so with encouraging voices around us we stripped and plunged into the cool waters. Soon we heard sirens and then huge spotlights illuminated us, two large naked Jewish women clearly in the sights of the college police. Perhaps working-class acting out. Just a passing moment of defiance but I remember it deeply. In a way, Madeline always led with her body.
A founding member and president of the first gay liberation organization in Western New York, the Mattachine Society of the Niagara Frontier, Madeline stepped out and into history. I was in the audience in Albany, New York in 1971, the first gay march on the state's capital, to hear her greeting to us, local marchers and others bused in, to announce a new time for our public selves. She is perhaps most well-known for becoming the first openly gay delegate to a major political party and spoke to the gathered demanding that gay rights be part of the Democratic platform. So many firsts and so many passions, her WICCA, her love for Keeshond dogs, her Reiki mastering, her regional archiving of lesbian queer history, her acting career, her erotic journeys. Above all, her life with Wendy Smiley.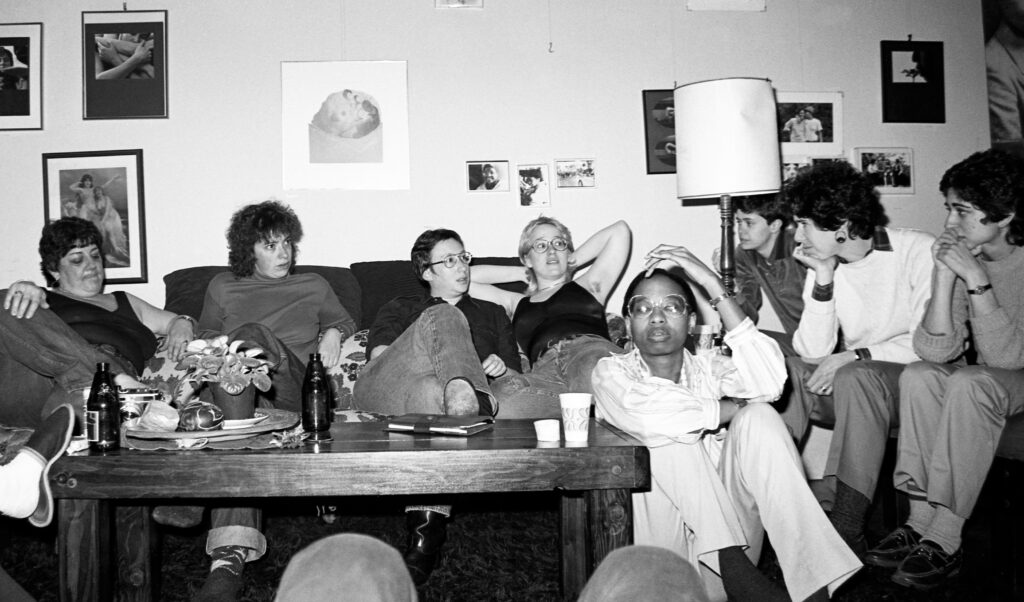 Perhaps you have heard of the 1982 and beyond sex wars, the Barnard conference on women's sexuality, the college's banning of the guide to the program, the picket lines and the downtown responding night of erotic celebration. Madeline was there with us. Sitting in the old home of the Archives, planning our responses, an archival photo shows Madeline between Gayle Rubin and Amber Hollibaugh. I see her the night of the speak out, standing proudly in her leather chest gear, championing the complexities of lesbian sexual desire. A proud Femme in a controversial time. In her memoir, Femme Finale, Madeline claims all the different parts of herself, those that brought her community fame and those at times, ruffled the waters.
I am aware as I write this remembrance of Madeline, that I am using the vocabulary of another time: lambda, gay, Mattachine Society, femme, leather, but this is my Madeline, this was our bond, the bars filled with desire and worry, the longing for a certain touch, the knowledge that a politic was being born from the margins, that it must be an inclusive moment. She sang in that unrelenting enthralling voice of the love, the touch that was the glory and the pain of our femme way. Her courage to be herself, full of convictions and passionate dedications. I had not seen Madeline for over twenty years when we received the news of her illness. How it all comes back, the friendships that make beginnings possible, that change history. The warmth of winter nights with Madeline, Liz and Bobbie, snow falling, talking Buffalo, American working-class lesbian history.
—
Butterflies and Roses c. 1980
In the empty morning light, after you have slipped way
With the place beside me turning cold, in the coming of the day.
I must remember that the wonder is nothing less because you go.
And the joy of having touched was a precious thing to know.
Chorus:
And you are butterflies and roses
All the things that visit
For a time before they run.
And you are a single perfect snowflake
A starry night suspended
Turned to shadows with the dawn.
All the nights that give us comfort turn to days and disappear
Still the mem'ry of them warms my dreams when this love cannot be near.
And I remember that the wonder of your hands and heart were real
And the joy of having touched you, a sweet pain I'll always feel.
—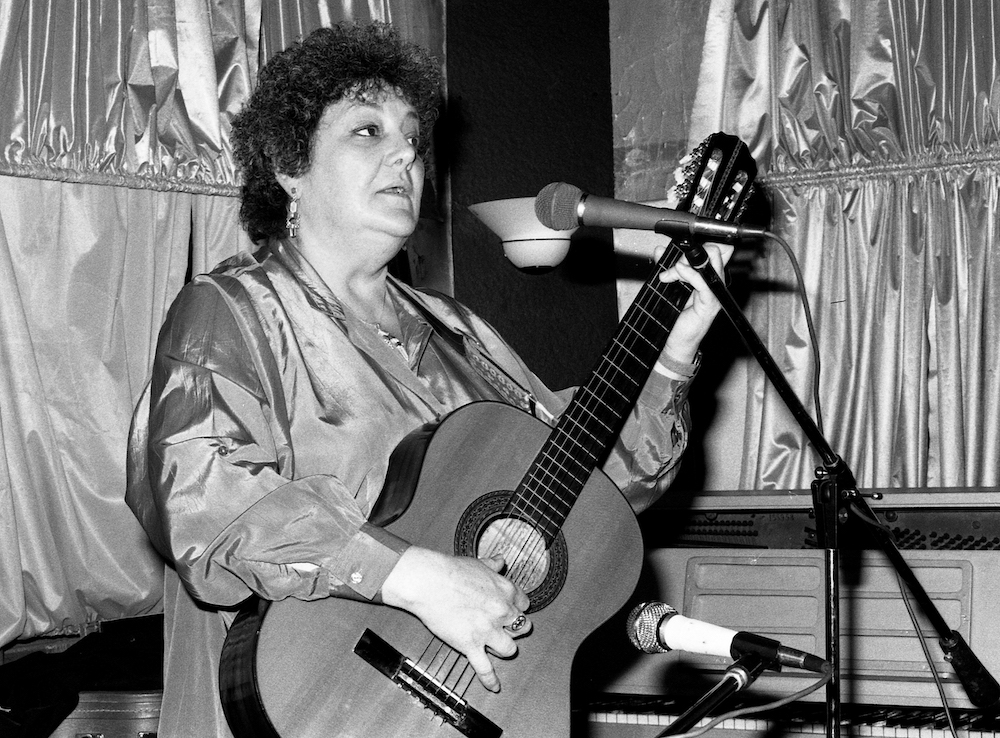 Wendy Smiley, Madeline's wife, speaking of her love:
I came to Buffalo in 1974 at the tender age of twenty. I was happily growing into my lesbianism and when I heard that there was a lesbian singer at a coffee house, I hurried down to listen. She was beautiful. She sang directly to my heart and I fell in love. I asked Madeline on a date. We walked around Delaware Park. We talked about our lives and our interests. We were perfectly suited. She was a musician with a lovely voice, a nice Jewish girl; we had similar ways of looking at the world so I asked her to marry me. She patted me on the head, let out a laugh, and told me I was way too young.
Twenty years later we sat together at a community Seder and I asked her on a second date. I was now much older and someone had mentioned that I had my five minute window of opportunity. Madeline was single. We had our second date.
After dinner I asked her if we could go in the parking lot and neck. She said, "I don't do that on a second date." We continued to see each other. I did whatever she requested. She was falling. I could tell. I asked her if we could go steady. She said no, but we can date. A month later I bought a house across the street from her. I asked her to marry me. She said no but we can go steady. I continued to ask until I stopped. Then she got nervous and asked me.
We got married at Temple Beth Zion in 1995. It was a terrific wedding. Not legal, but certainly spiritual. The temple both lost and gained members but we opened a door. We had the first same sex listing in the wedding section in the Buffalo News.
Wedding number two was a hand fasting in the woods to honor Madeline's Wiccan beliefs. The third was a Vermont Civil Union. Fourth in Niagara Falls, Ontario, which was then recognized by New York State. The fifth was entirely my fault. I wanted to have a marriage in my own country that was recognized by my country.
We returned to Temple Beth Zion for this wedding. And then we agreed enough was enough. Twenty-six years of marriage to the woman of my dreams. Madeline and I were perfect for each other.
Let me tell you about the woman who filled my life with joy and sometimes torture. Madeline was a poet, a beatnik and before she came out, she sang in many coffee houses. Her first band was New Chicago Lunch with Steven Halpern among others. She continued to sing in various venues and known by some as Queen of the Lesbians.
Madeline became involved in the Mattachine Society of the Niagara Frontier. She was nominated to run for delegate to the 1972 McGovern convention. She was the first open lesbian to speak from the convention floor to promote the acceptance and rights for gays and lesbians. Madeline wrote and recorded the first gay rights anthem in the US, "Stonewall Nation." She later recorded "Daughter of All Women," a tape of original lesbian music.
She taught the first lesbian course in the country. With Elizabeth Lapovsky Kennedy, she wrote the groundbreaking Boots of Leather, Slippers of Gold: The History of a Lesbian Community.
Madeline's career was as a librarian for the Buffalo and Erie County Public Library. After she retired, she became an archivist. She founded the Dr. Madeline D. Davis LGBTQ Archive of Western NY. It first existed in our house but later moved to SUNY Buffalo State. If anyone wants to make a donation in her name, send it to the Archives.
Madeline starred in a documentary by Dave Marshal called Swimming with Lesbians, which introduced the Archives through stories about some of our favorite people from the Archive.
In 2016 Madeline received an honorary Doctorate from the State University of NY for her lifetime of work towards making the lives of the GLBTQ community better for us all.
Madeline loved many things. Among them are performing, adoration, and her friends. Her biggest love was for her sister Sheila, her brother Mark, and her niece Jody who gave her so much love in return.
The last month of Madeline's life was truly a blessing for us both. With the help of so many people who contributed to the fund for Madeline's care, I was able to be right at her side. I want to thank the aids and Odie who worked round the clock to take such loving care of both of us. And, of course, Beth who has been our rock for so many years. Mad's words of thanks to her were, "Stop being so sloppy." After so many weeks of being apart while she was in the hospital following a stroke, we really cherished our time together. Madeline was still as demanding as ever. Most often it was, "get me a bedpan" or "you can't leave the room," but one memory I cherish was when she ordered, "kiss my neck." I will forever be grateful for the joy she brought into my life.
After a few years with Madeline the songwriter, I started nudging her. All her other lovers had a song dedicated to them. Where is mine? After a few years of whining, I finally got my song and I thought I would share it with you. Just one of the many wonderful things she gave me.
—
Wendy's Song
Refrain
Wherever you go I will go,
Wherever you live I will live with you.
Your people will be my family
And you spirit will dwell in my soul
For wherever you go, I will go.
Come walk with me in springtime
Through early morning dew
Time to discover the world together
And a love that is always new
Refrain
Come run with me in summertime
Through blooming meadows sweet.
Like butterflies our hearts will rise
Our love will be complete.
Refrain
Come dance with me while autumn leaves
Crown with red and gold
The smoky time of season's end
Our love grows full and bold.
Refrain
Come lie with me in winter's chill,
I'll hold you against the storm.
This love will be a covenant
And always keep us warm.
Wherever you go, I will go.
Wherever you live, I will live with you.
Your people will be my family
And your spirit will dwell in my soul
For wherever you go I will go.
—
To read Madeline Davis' memoir, Femme Finale, and to hear her voice go to the SUNY Buffalo State, Madeline Davis LGBTQ Archives of Western New York.
---
2 responses to "Our Madeline Davis (July 7, 1940-April 28,2021)"