Black Lesbian Futures – An Online Event
We've added it to our calendar, but also wanted it to land in your inbox. This coming Wednesday, April 7th, from 6pm – 7:30pm, the Lesbian Herstory Archives is proud to co-sponsor and celebrate the publication of Mouths of Rain: An Anthology of Black Lesbian Thought (The New Press, 2021) edited by Briona Simone Jones.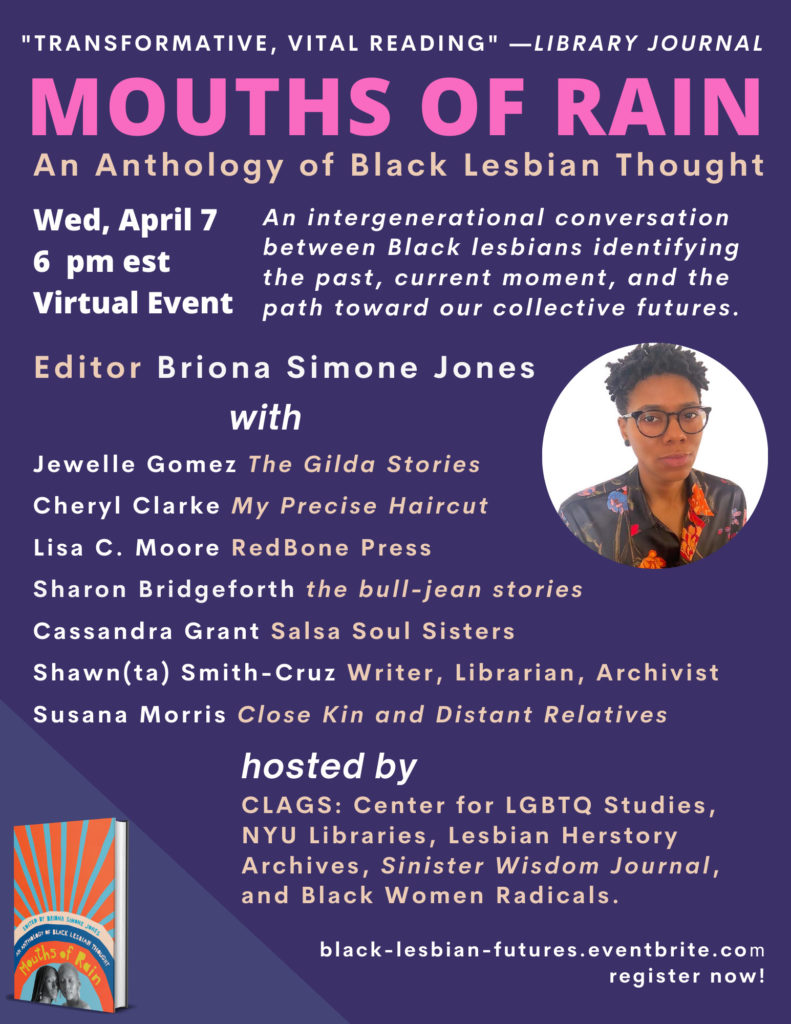 African American lesbian writers and theorists have made extraordinary contributions to feminist theory, activism, and writing. Mouths of Rain, the companion anthology to Beverly Guy-Sheftall's classic, Words of Fire, traces the long history of intellectual thought produced by Black Lesbian writers, spanning the nineteenth century through the twenty-first century.
The event will feature readings and conversation with Cheryl Clarke, Briona Simone Jones, Jewelle Gomez, Susana Morris, Sharon Bridgforth, Lisa C. Moore, Cassandra Grant, and Shawn(ta) Smith-Cruz, LHA Co-Coordinator and event host.
Register at https://black-lesbian-futures.eventbrite.com to receive the zoom link in your email address.
This event is co-sponsored by the Lesbian Herstory Archives alongside
Sinister Wisdom Journal
CLAGS: Center for LGBTQ Studies
Black Women Radicals
and NYU Libraries
Live closed captioning will be available. Due to presenter requests, this event *will not* be recorded.
For any additional questions about this event, you may email: libraryevents@nyu.edu. We look forward to seeing you there.
---