Lesbian Elders Oral Herstory Project Launch
SEEKING VOLUNTEERS: LESBIAN ELDERS & INTERVIEWERS
We are proud to announce an engaging new project:
The Lesbian Elders Oral Herstory Project, at the Lesbian Herstory Archives!
Supported by a two-year Mellon-funded Community Archives grant, we are creating The Lesbian Elders Oral Herstory Project, which seeks to continue the Archives' commitment to collecting and sharing Lesbian stories. These oral histories of Lesbian Elders will offer experiential insight into the history of Lesbian culture and activism, complementing LHA's already rich collections. In addition to sharing a life history, for a unifying theme we are seeking volunteers with a connection to LHA.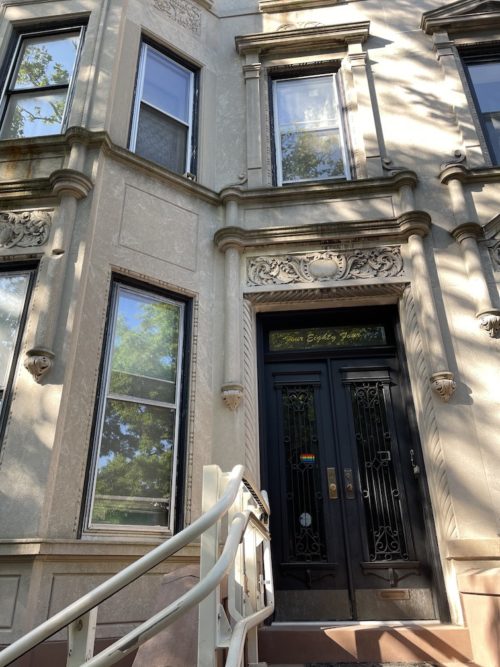 A connection to LHA could mean you…
have your material in the collection
visited the space
volunteered at LHA
were a part of the herstory
were a visitor to 13A
used LHA materials in your research, art, or writings
…really, anything at all!
For the purposes of this project, Elders includes Lesbians ages 60 and up. The oral histories will be made available either online or on-site only at the Archives. Our first interview info sessions begin in June 2021.
If you would like to volunteer to participate, either as an interviewee that would like to share their story or as an interviewer, please visit this link or www.lesbianeldersoralherstoryproject.com for more information on the project. We look forward to hearing from you! Don't hesitate to contact us with any questions at lesbianeldersoralherstory@gmail.com.
We are excited to start this project with you,
The Lesbian Elders Oral Herstory Project Team
Julia Rosenzweig & Minda Matz
Photo: LHA Facade. Photo by Minda Matz, 2021
---