Black Lesbian Futures
Wednesday April 07 6pm — 8pm
Join us to celebrate the publication of Mouths of Rain: An Anthology of Black Lesbian Thought (The New Press, 2021) edited by Briona Simone Jones. REGISTER HERE: https://black-lesbian-futures.eventbrite.com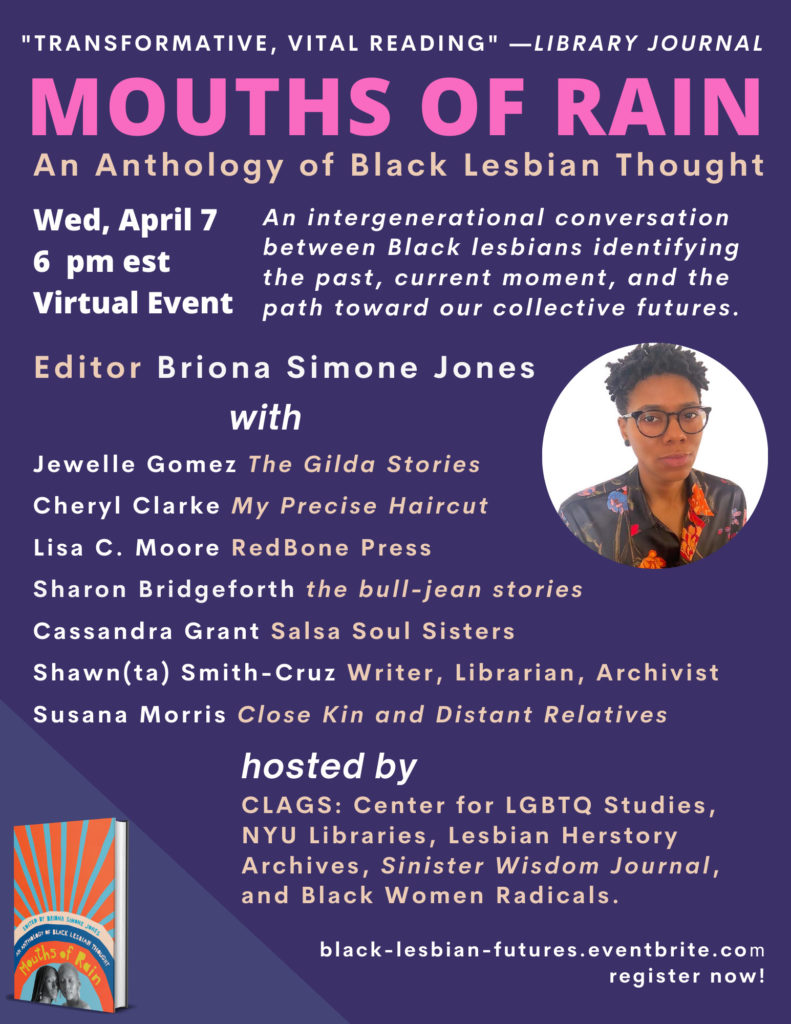 African American lesbian writers and theorists have made extraordinary contributions to feminist theory, activism, and writing. Mouths of Rain, the companion anthology to Beverly Guy-Sheftall's classic Words of Fire, traces the long history of intellectual thought produced by Black Lesbian writers, spanning the nineteenth century through the twenty-first century.
Featuring: Cheryl Clarke, Briona Simone Jones, Jewelle Gomez, Susana Morris, Sharon Bridgforth, Lisa C. Moore, Cassandra Grant, Shawn(ta) and Smith-Cruz.
This event is co-sponsored by the Lesbian Herstory Archives, Sinister Wisdom Journal, CLAGS: Center for LGBTQ Studies, CUNY, Black Women Radicals, and NYU Libraries, presented as part of NYUWomxn100.
Live closed captioning will be available.